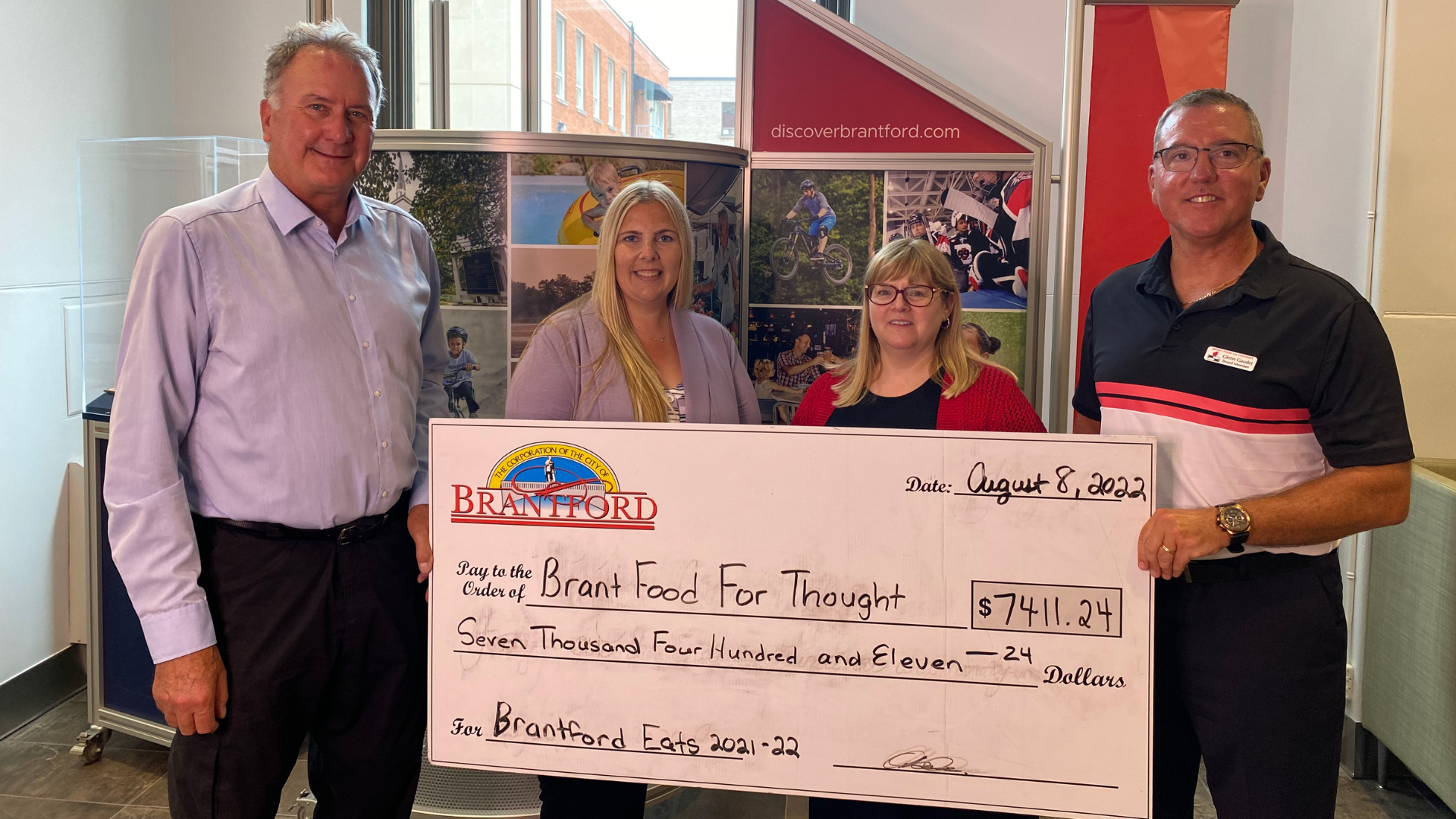 Brantford, ON – On Monday, August 8, 2022, Brantford Mayor Kevin Davis presented a cheque for $7,411.24 to Brant Food for Thought for the total proceeds raised from Brantford Eats Local booklet sales. Brant Food For Thought is a local agency that supports and facilitates Student Nutrition Programs in elementary and secondary schools in Brantford and the County of Brant.
"I am thrilled to present Brant Food for Thought with this cheque that represents the teamwork of City staff and the community coming together to support local businesses and raise money for an important cause," says Brantford Mayor Kevin Davis.
In November 2021, Tourism Brantford launched the second annual Brantford Eats Local program and offer booklet. The campaign ran until May 31, 2022 and included 38 exclusive offers from 38 different restaurants and food businesses in Brantford.
The Brantford Eats Local 2021-2022 project was made possible with a grant received from Enterprise Brant. "Enterprise Brant congratulates Tourism Brantford on the success of the Brantford Eats Local program," says Sara McLellan, General Manager, Enterprise Brant. "It is a pleasure to partner with Tourism Brantford to support local business and contribute to the nutrition of children through Brant Food for Thought."
Brant Food for Thought operates on the belief that good nutrition contributes to a child's ability to learn and that all children and youth should have equitable access to the most nutritious foods possible. "Brant Food For Thought is thrilled to be the recipient of this year's campaign proceeds," says Gisele Budgell, Program Coordinator, Brant Food For Thought. "Thank you to everyone who contributed in any way to its success, particularly during another challenging year. Together, your donation will ensure that more students will have access to healthy breakfasts and snacks for an entire school year to help maximize their learning success."
Brantford Eats Local stemmed from the Economic Recovery Action Plan developed by the Mayor's Economic Recovery Task Force in June 2020. This plan was created in response to the unprecedented economic hardships faced by business owners and operators in Brantford as a result of the COVID-19 pandemic with the hope that more people would attend these businesses as a result of the Brantford Eats Local program.
"We were delighted to include a coupon in this year's Brantford Eats booklet," says Sarah Disher-Neddow, Owner, Dairee Delite. "The community and Tourism Brantford have been so supportive of our business over the past couple of years. This was a great chance for us to help support an important charity in our community while providing a discount for our neighbours to enjoy a treat. As we approach our 70th birthday next year, we are so proud to have the continued support of our community, and the opportunity to support them in return."
"It was great to see the community coming together to support each other," says Shelby Miller, Co-Owner, Lettuce Live. Local restaurants and food establishments appreciated the support during a difficult time for small businesses. "We were thrilled to be a part of such an amazing program," says Bailey Uvanile, Co-Owner, Lettuce Live. "We love being involved with a program that aims to promote small and local businesses, especially after these tough two years."
"We loved being a part of the Brantford Eats program, especially as a new business to Brantford," says Isabel Tancredi, Owner, Wild Thyme Kitchen. "It was an excellent way for customers to come in a try our meals."
The second edition of the Brantford Eats Local program booklet included exclusive offers from the following partners:
Altitude Coffee Roasters
Bell City Brewing Company
Bistro Seven
Brantwood Farms
Dairee Delite
Good Friends Soup & Sandwich Company
Gran Sasso Restaurant
Hudson Public Kitchen & Bar
Indian Spice Sweets & Restaurant
La Bottega Italian Fine Foods
La Mia Cucina
Le Chocolat Du Savoie
Lettuce Live
Lonnie's On Market
Mann's Distillery
Mash Paddle
Mercasa Little Italy Eatery & Catering
Momoko Snacks Land
Moon Tea
Myra's Bar & Grill
Nine North
OMG Ice Cream & Frozen Yogurt
Our Kitchen Brantford
San Agostino Italian Bakery & Fine Foods
Seventh Coffee Company
SkyWay Cafe
Soulful Kafe
Spool Gourmet Poutine & Mac N' Cheese
Steve's Tea Company
Strodes BBQ & Deli
Sweet Bakery
The Duke on Park
The Olive Oil Co.
Vintner's Cellar Brantford
Wild Thyme Kitchen
-30-
Media Contact
Chelsey Tobin | Communications Specialist, Communications and Community Engagement
City of Brantford | 519-759-4150 ext. 5048 | ctobin@brantford.ca